E-FPDS or FPDS_v2 Dataset
Introduction
Here,we release the new version of Fallen People Data Set (E-FPDSor FPDS_v2), a novel benchmark for detecting fallen people lying on the floor. It consists of 6982 images, with a total of 5023 falls and 2275 non falls corresponding to people in conventional situations (standing up, sitting, lying on the sofa or bed, walking, etc). Almost all the images have been captured in indoor environments with very different situations: variation of poses and sizes, occlusions, lighting changes, etc.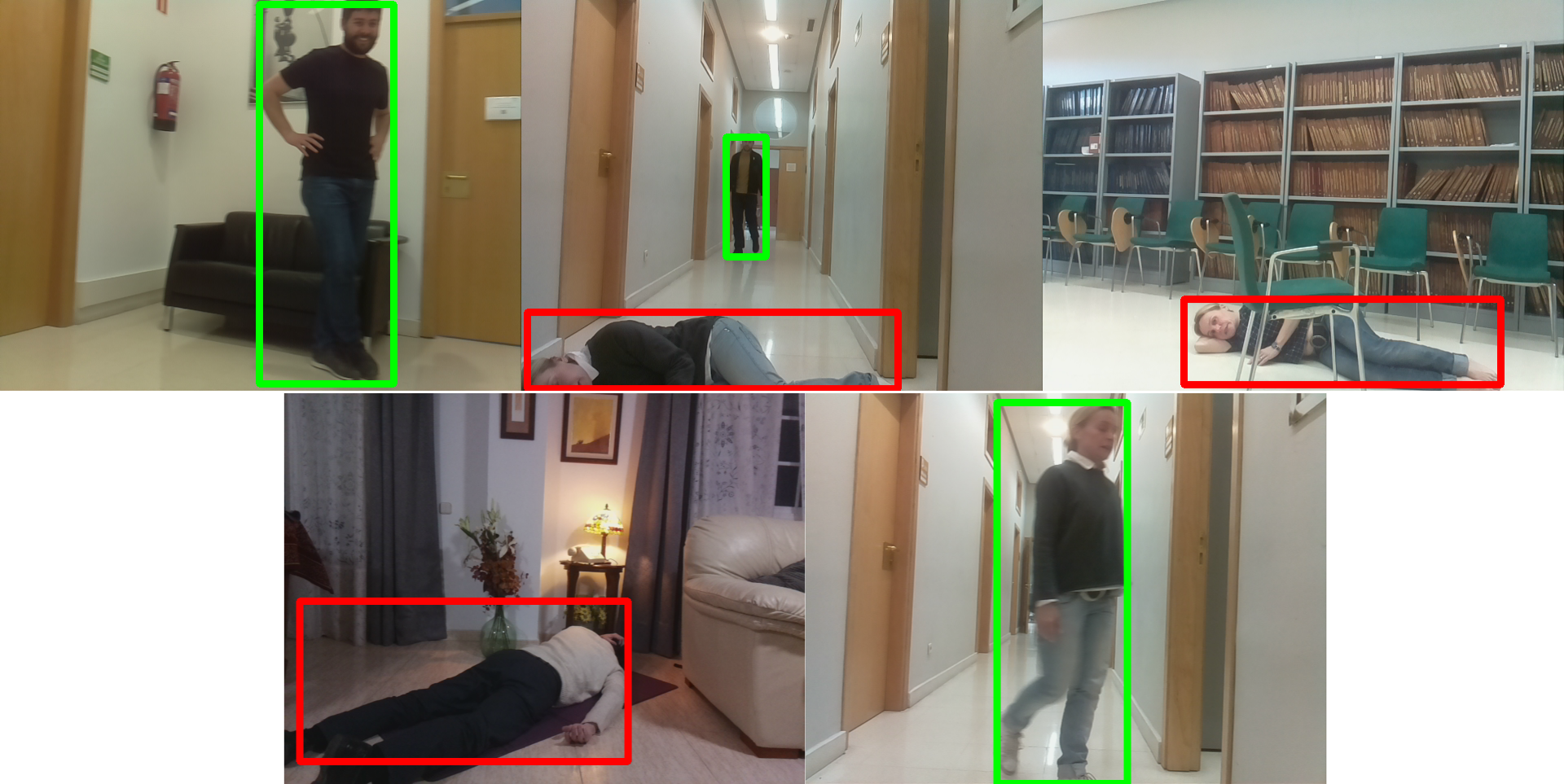 Video demo
Best practice: Recommendations on using the dataset
E-FPDS dataset is divided into three dataset: training, validation and test. Any approach reporting results for the E-FPDS bechmark must be trained using any data except the provided test images. Furthermore, the test data must be used strictly forreporting of results alone -it must not be used in any way to train or tune systems, for example by running multiple parameter choices and reporting the best results obtained. For that purpose we recommend to use the training and validation sets which are provided on the same package.
YOLO weight files
YOLOv3 optimized trained weight files for the E-FPDS dataset (1 class-7000 epochs, 2 classes-4000 epochs and 20 classes-2000 epochs).
Download E-FPDS or FPDS_v2:
Download FPDS_v1:
If you make use of this data and software, please cite the following reference in any publication: Fallen People Detection Capabilities Using Assistive Robot. S. Maldonado-Bascón, C. Iglesias-Iglesias, P. Martín-Martín, S. Lafuente-Arroyo. Electronics 2019

Other datasets
Ground-truth annotations of other public datasets.
Elderly set
We have a third set of images with volunteers over 65 years old. Our elderly set comprises 413 annotated images in different scenarios and situations. Download Elderly Set
Acknowledgements
This work is supported by projects PREPEATE, with reference number TEC2016-80326-R, and project AIRPLANE, with reference number PID2019-104323RB-C31.